Jag Mandir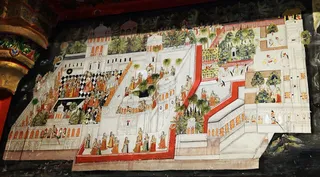 Jag Mandir depicted on a palace wall fresco painting at the City Palace & Museum, Udaipur
| | |
| --- | --- |
| Location of place | Pichola Lake, Udaipur |
| Owner | Shriji Arvind Singh Mewar of Udaipur |
| Other names | Lake Garden Palace |
| Type of place | Royal Heritage Residence; Heritage Hotel |
| Builders | Maharana Amar Singh; Maharana Karan Singh; Maharana Jagat Singh I |
| Nearest City | Udaipur City |
| Nearest Railway Station | Udaipur Railway Station |
| Nearest Airport | Maharana Pratap Udaipur Airport |
| State | Rajasthan |
| District | Udaipur |
| Operations | HRH Group of Hotels |
Jag Mandir or the Lake Garden Palace, is built on an island in Lake Pichola at Udaipur. It is famous for granting asylum on two occasions - first while Prince Khurram (Shah Jahan) was fleeing after rebelling against his father Jahangir, and the second during the revolt of 1857 (to protect European women & children). [ref]
Construction
The construction started by Maharana Amar Singh, continued by Maharana Karan Singh and finally completed by Maharana Jagat Singh I (not to be confused by Jagat Singh II who commissioned Jag Niwas), therefore named after him.
Col. Tod writes in his Annals of Mewar -

"...Khuram and Muhabbat Khan compelled to take refuge in Udaipur.....he (Shah Jahan) took up his abode on the island abode on the island, on which a sumptuous residence was raised, adorned with a lofty dome and crowned with a crescent. The interior was decorated with onyx, cornelean, jasper, and agates, and the floors were covered with rich Turkey carpets. Here Khuram resided, every wish anticipated, till a short time before the death of his father, when he retired to Persia.....Nothing but marble enters into their composition; columns, baths, reservoirs, fountains, all are of this material, often inlaid with mosaics, the uniformity pleasingly diversified by the light passing through coloured glass. The walls, both here and in the grand palace, contain many medallions in gypsum, portraying the chief events in the history of the family. Orange and lemon groves, and parterres of flowers intervene to dispel the monotony of the buildings, while on every side the tamarind and the cocoanut palm spread their welcome shade."
Asylum
Rebellion of Khurram (Shah Jahan)
When the Mughal garrison had fallen at Kondhar at the end of 1620 A.D., Khurram was ordered to proceed with an army to defend the frontier. But the prince showed reluctance to march towards Kandhar ore the end of rainy season. He also demanded the fort of Ranthambhor for the residence of his family.
He insisted on the governorship of the Punjab and a full command of the frontier forces. These demands were intended to be safeguards against the probable support of Shahryar's claim by the wilful queen, Nur Jahan. The unwelcome suspicion of Khurram further aggravated the cause of dissension when fief of Dholpur, his Jagir in the Punjab and the command of the frontier were conferred upon Shahryar.
In order to end the stalemate, Khurram expressed his humble submission through his trusted agent at die court, but all in vain.
Shah Jahan's Coronation
It is believed that it was Jag Mandir where after Jahangir's death, Khurram was first crowned Emperor with the title Shah Jahan.
Revolt of 1857
Heritage Hotel
The palace is now an ultra luxurious Heritage Hotel run by the HRH group of Hotels under Shriji Arvind Singh Mewar of Udaipur.
The heritage hotel is also famous for hosting grand weddings. It rose to fame after Raveena Tandon's wedding celebrations. Isha Ambani's pre-wedding celebrations also took place in Jag Mandir Palace.