The Third Lecture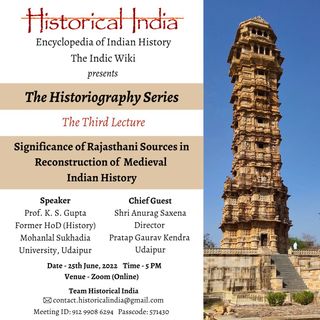 The Third Lecture
| | |
| --- | --- |
| Series | The Historiography Series Lectures |
| Chief Guest | Shri. Anurag Saxena, Director, Pratap Gaurav Kendra, Udaipur |
| Venue | Online; Video Conferencing via Udaipur |
| Agenda | Significance of Rajasthani Sources in Reconstruction of Medieval Indian History |
| Serial No. | 3 |
| Date | 25th June, 2022 |
| Speaker | Senior historian & author Prof. K. S. Gupta, Former HoD (History), Mohanlal Sukhadia University, Udaipur |
The Third lecture of the ongoing Historiography Series at Historical India was held on 25th June, 2022 online through video conferencing via Udaipur. The lecture deliberated on the Significance of Rajasthani Sources in the Reconstruction of Medieval Indian History. The lecture was delivered by senior historian and famed author Prof. K. S. Gupta.
The Historiography Series
The Historiography Series is an ongoing lecture series at Historical India that attempts to equip students with the necessary skills to read, interpret and eventually write history. With a multitude of narratives getting traction, and political motives getting injected into these, the discipline of history is unfortunately becoming the biggest casualty. We believe that it is essential to get an idea of how history is to be written and understood, so that a foundation can be established for future discourse and debate. The objective of this series is the formulation of a Historiography policy document that shall be made part of the website's content policy.
Concept Note
India's medieval past has been reconstructed by relying on Persian sources, that invariably privilege certain regions and kingdoms over others. Meanwhile, contemporary Rajasthani and Maratha sources remain largely ignored and unfortunately haven't attracted much scholarly and popular attention.
The glorious history of Rajasthan teems with literature composed by numerous scholars and poets, who epitomize the cultural and intellectual advancements that took place during various periods. These textual sources emanating from Rajasthan are immensely significant for any reconstruction of medieval Indian history.
Historical sources to reconstruct medieval history of Rajasthan are variegated, but broadly can be classified into two categories. On the one, we notice Jain texts written in the period of Rajput principalities which account for chronological developments and the socio-religious and cultural aspects of their contemporary eras while on the other, prominent kavyas like Prithviraj Vijay comprehensively decode the specific regions in Rajasthan. Besides these, the Hammeer Mahakavya, Amar Kavyam and Surjan Charitra are some of the significant
kavyas that provide us a very rich portrayal of the Rajput society.
Prose literature of katha is also equally significant for a historian studying medieval India. Texts like Prabandha Chintamani and Vrihat Katha Kosha give immensely valuable information about the social and political context of medieval Rajputana. Jain Pattavalis or chronological records contain accounts of various kings including those who ruled in other parts of India.
Local histories of the various states of Rajasthan, commonly called khyats, are also repositories of historical traditions that have been preserved by several generations in success. Needless to say, they provide a historian with rich information on the social and political reality of those times. Texts like Nensi Ri Khyat and Jodhpur Ri Khyat are also equally important sources of history for our period.
Historical traditions of medieval Rajasthan are well recorded in the numerous inscriptions written in Sanskrit as well as local dialects. The Kumbhalgarh Prashasti and the inscriptions inscribed on the Kirti Stambha underscore the volatile political landscape as well as the changes that people faced in those uncertain times. These inscriptions also outline the achievements of the great rulers of Rajasthan and their pervasive influence on the national politics.
Thus, the literature of medieval Rajasthan can potentially help us move beyond regional frameworks and develop a history that has national implications. Colonel Tod, way back in the 19th century, had also expressed a fervent hope that these variegated records could be fruitfully used for reconstructing Indian history.
It would be appropriate to quote his words from the Annals and Antiquities of Rajasthan -

"In the absence of regular or legitimate historical records, there are, however, other native works, which, in the hands of a skilful and patient investigator, would afford to be indispensable material for the history of India".

Sir Jadunath Sarkar was the first historian to investigate Rajasthani sources in right earnest and ever since his monumental works were published, no prominent historian has undertaken any such effort. There is a need to tap into the vast literature of Rajasthan with urgency, so that discourse on medieval Indian history can be made more inclusive and well rounded. This lecture attempts to stimulate such a discourse in the presence of a distinguished historian who has been taking strident efforts in this direction.
The Speaker
Prof. K. S. Gupta is a senior historian and famed author, who has served as the Former Head of Department, Department of History, Mohanlal Sukhadia University, Udaipur. He is also the National Vice President of the Akhil Bharatiya Itihaas Sankalan Yojna. After his retirement as Professor in 1992, he remained a visiting professor at Dr. Harisingh Gaud University, Sagar and Rajasthan Vidyapeeth, Udaipur. He is a prolific writer and was a senior fellow at the Indian Council of Historical Research (ICHR). He has authored 14 Historical Works that have earned recognition from historians.
His recent publications include Maharana Kumbha : Vyaktitva evam Krititva (Hindi (ICHR, Delhi, 2021); Mewar and Maratha Relations (Gwalior, 2014); Rajasthan ka Itihas : Ek Sarvekshan (Hindi) (Jaipur, 2014); Mewar Itihas ke Avismaryiya Prasang (Jaipur, 2005); and many more. He has contributed over 50 research papers in various journals and magazines. He has also presented research papers in more than 60 seminars and conferences.
He has also presided sessions dealing with Medieval history in the Punjabi History Congress Patiala and the Rajasthan History Conference Jodhpur. 44 candidates have completed their research work for the award of Ph.D. degree under his supervision. He has been honoured with several awards, that includes the prestigious Kumbha Award bestowed upon him by the Maharana Mewar Charitable Foundation Udaipur, Gaurishankar Ojha Award by the Gujarat Sahitya Sangam, Mewar Award by Mewad Adhyayan Evam Vikas Sansthan and the Rajendra Mohan Bhatnagar Smriti Puraskar. He has held important positions in various organizations that includes his tenure as the President of Virshiromani Maharana Pratap Samiti, Udaipur and as Governing Council Member of Maharana Pratap Smarak Samiti, Udaipur. [ref]
The Chief Guest
Shri. Anurag Saxena is currently serving as the Director of the Pratap Gaurav Kendra Rashtriya Tirth, Udaipur, Rajasthan. He hails from Jaipur, Rajasthan. After completing his education in BSc and later L.L.B, he further progressed to set up his self independent business in Jaipur. In 2019, he took a voluntary break from his business life, and since then serves full-time as the director of Pratap Gaurav Kendra Rashtriya Tirth, Udaipur.
The Pratap Gaurav Kendra Rashtriya Tirth is located at Tiger Hills in the city of Udaipur, Rajasthan. It aims at providing detailed information regarding the history and achievements of the 54th custodian of Mewar - Maharana Pratap Singh. The Tirth enables one to contemplate over Hindu Dharma & culture and revisit the inspiring life of great personages of our society. One can cruise through the awe inspiring history of Maharana Pratap, Mewar, Rajasthan and Bharat as a whole. [ref]
Mr. Saxena is also an avid researcher on Mewar and especially Maharana Kumbha. His book on Maharana Kumbha is ought to be in publication soon.
Notes from the Lecture
YouTube
The full lecture has been recorded and uploaded on the official YouTube channel of Historical India. Senior historian Prof. K. S. Gupta, even at an age of 90, presented an insightful and extensive discourse on Rajasthani sources as an imperative and indispensable material in terms of reconstructing medieval Indian history.
To redirect yourself towards the full video of the lecture, please tap on the reference here - [ref]. Also, do subscribe to the official YouTube channel of Historical India. [ref]
Glimpses from the Lecture
Recommended Articles