The Second Lecture
Dr. B. N. Prasad delivering the Second Lecture of the Historiography Series
| | |
| --- | --- |
| Series | The Historiography Series Lectures |
| Chief Guest | Prof. Savita Roy, Principal, Daulat Ram College, University of Delhi |
| Venue | Daulat Ram College, University of Delhi |
| Agenda | The Social Histories of Hindu Temples in Southeast Asia : A Review of the Debate with reference to Champa (Central Vietnam) |
| Serial No. | 2 |
| Date | 24th April, 2022 |
| Speaker | Dr. B. N. Prasad, Asst. Professor, Centre for Historical Studies, Jawaharlal Nehru University (JNU) |
The Second Lecture of the ongoing Historiography Series at Historical India was held on 24th April, 2022 at Daulat Ram College, Delhi University. The lecture deliberated upon the social histories of Hindu temples in South East Asia - A review of the debate with reference to Champa, and was delivered by Dr. Birender Nath Prasad, Asst. Professor, Centre for Historical Studies, Jawaharlal Nehru University (JNU).
The Historiography Series
The Historiography Series is an ongoing lecture series at Historical India that attempts to equip students with the necessary skills to read, interpret and eventually write history. With a multitude of narratives getting traction, and political motives getting injected into these, the discipline of history is unfortunately becoming the biggest casualty. We believe that it is essential to get an idea of how history is to be written and understood, so that a foundation can be established for future discourse and debate. The objective of this series is the formulation of a Historiography policy document that shall be made part of the website's content policy.
Concept Note
The Second Lecture of the Historiography Series attempts to correct a major historical fallacy. While scholars generally acknowledge the influence of western thought and culture in the Indian subcontinent, the impact of Indian thought on developments across the world is rarely sought to be underscored. South east Asia is one such region that maintained relations with India almost throughout the early medieval and medieval periods. This region houses some of the oldest temples in the world, whose sublime architecture still leaves visitors enthralled. The grandeur and sheer scale of construction of these temples was only on possible on the back of specific economic and social conditions.
How were resources mobilized to construct these temples? Who were the people involved in its construction, and what were the kind of social relations that prevailed in that period leading to such colossally valuable efforts?.
It is exactly to address such pressing questions that wehave with us eminent historian Prof. B. N. Prasad, who has written copiously on the History and Culture of Southeast Asia. He will be speaking about the Social World of Hindu temples in Central and Southern Vietnam from 4th Century AD to 15th century AD. The contribution of the Chams, whose architectural brilliance reached its zenith within this time frame, is sought to specifically be underlined, as also the social factors that contributed to it.
The Speaker
Birendra Nath Prasad, PhD (JNU), is Assistant Professor at the Centre for Historical Studies, Jawaharlal Nehru University, New Delhi, where he teaches economic history and social history of Hinduism and Buddhism in ancient India and Southeast Asia.
His recent publications include Monasteries, Shrines and Society: Buddhist and Brahmanical Religious Institutions in India In their Socio Economic Context (edited, Delhi, 2011); Archaeology of Religion in South Asia: Buddhist, Brahmanical and Jaina Religious Centres in Bihar and Bengal, c. AD 600 1200 (London and New York, 2021); Rethinking Bihar and Bengal: History, Culture and Religion (London and New York, 2021); Social History of Indian Buddhism: New Researches (edited, Delhi, 2021); Studies in the History and Culture of Ancient Indian Buddhism (edited, Delhi, 2022); Religion in Society and Culture: Social Dimensions of Buddhism, Hinduism and Jainism in India (Delhi, 2022, forthcoming); Studies in the History and Culture of Southeast Asia (edited, Delhi, 2022, forthcoming); History and Culture of Southeast Asia: New Researches (edited, Delhi, 2022, forthcoming); and many peer-reviewed research articles in prestigious international journals such as Journal of the Oxford Centre for Buddhist Studies (Oxford), Buddhist Studies Review (London), Religions of South Asia (London/Sheffield) and Berlin Indological Studies (Berlin, Germany). [ref]
The Chief Guest
Prof. Savita Roy is currently serving as the Principal of Daulat Ram College, University of Delhi. Historical India conveys its gratitude to Prof. Roy for extending her generous support by permitting the use of the Seminar Hall of Daulat Ram College in order to conduct the lecture. [ref]
Notes from the Lecture
Inferences
Vietnamese scholars must have produced significant scholarship on this theme, but the researches published in Vietnamese language were and still remain unknown to Indian scholars due to linguistic limitations.
Therefore, a need for a greater collaboration between Indian and Vietnamese scholars is must in future endeavors.
Students must consider learning the French language; and explore the possibility of pursuing a Ph.D. on Champa or Kambujadesa through enrollment in universities in France.
Glimpses from the Lecture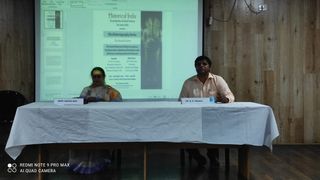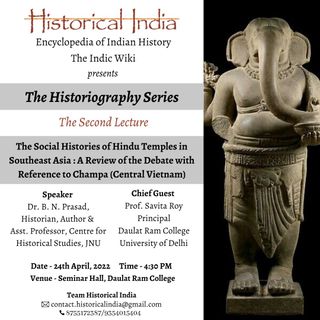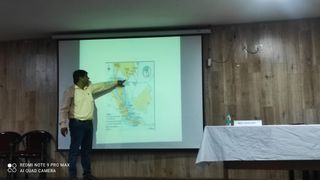 Recommended Articles