Sardar Valabhbhai Patel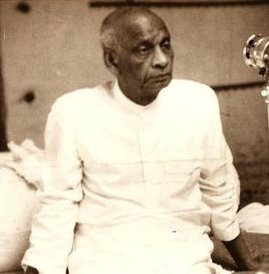 | | |
| --- | --- |
| Birth place | Nadiad, Bombay Presidency |
| Date of birth | 31 October 1875 |
| Father | Zaverbhai Galabai Patel |
| Relatives | Vitthalbhai Patel |
| Death place | Bombay State |
| Mother | Ladbai Patel |
| Date of death | 15 December 1950 |
Sardar Vallabhbhai Patel is widely recognized as India's Iron Man, who played a significant role in shaping the India that exists in the modern age. A staunch lawyer, a devout Gandhian, a freedom fighter, a rationalist to the core- Patel was more than anything else devoted to his nation and its people. In spite of being subjected to a lot of injustices in his personal life, he remained stoic and steadfast throughout all his missions- exemplifying the virtues of a karmayogi. He was part of a trinity of men who were at the helm of affairs as India gained its independence in 1947, the other two men being Jawaharlal Nehru and Mahatma Gandhi. Very often, Patel's contributions to independent India are not given their due. This article explores his legacy across different spheres.
Childhood and Youth:
Vallabhbhai Patel was born in Nadiad village, in the Kheda district of Gujarat on 31 October 1875. His father Zaverbhai Galabai Patel was a petty landowner. His mother, Ladbai was an extraordinarily capable lady, who narrated numerous mythologically significant tales to her kids, stories that help mould a personality who would define his nation's history in a decisive way. Patel was a Patidar, one of the land-owning classes who had migrated to Gujarat from Punjab. Patel's father had participated in the 1857 revolt, and his birth incidentally coincided with a period of nationalist ferment.
Vallabhbhai was a precocious student, who studied and blossomed intellectually without much support. He completed his primary schooling in Karamsad. As a child, he often accompanied his father to the fields. This experience made him all the more rooted to the realities of rural India, and defined his line of thinking in the decades to come. In the sixth standard, he organized a strike in his school to protest against the harassment suffered by a fellow student. This small protest amply highlighted the leadership qualities and organizational abilities Vallabhbhai possessed. He passed his matriculation from the Nadiad High School in 1897.
Fame as a Pleader:
Patel shifted to Godhra in 1900 and got employed as a Pleader in the District court, earning decent monthly revenue. His no-nonsense attitude didn't make him very popular initially, but this was Patel's innate nature- he never compromised on his values. He moved to Borsad in 1902, and established himself as a successful criminal lawyer. Often pitted against the police, his reputation only grew over time, as Patel set his sights on gathering finances to fulfill his ultimate ambition: becoming a barrister in England. In 1905, he was on the brink of achieving his goal, but in a baffling turn of events, his passport reached his elder brother Vitthalbhai's house. Incidentally (and unsurprisingly), Vitthal too had an ambition to travel to England. Submitting to the custom of honouring an elder brother, Vallabhbhai surrendered all his documents (and dreams) and relinquished his dream, at least temporarily This was the first of many instances in his life when Patel was compelled to make a sacrifice, in spite of his merit.
In 1909, tragedy struck Patel's life, as he lost his wife Javerbai. He was only thirty-three at the time, with two young kids: Maniben and Dahyabai. He handled the situation with great fortitude, and didn't give up on his dreams. In 1910, he sailed to England and became a barrister at the Middle Temple Inn. He succeeded and ranked first in his exams. He returned to India in 1913, and got back to work as a Pleader.
Entry into politics:
In 1915, an IAS officer JA Shillidy was appointed Municipal Commissioner of Ahmedabad, and became a quasi-autocrat. He completely overhauled established guidelines. The Gujarat Club persuaded Vallabhbhai Patel to join it, and he got elected as a councilor on 5 January 1917. From there on, his life changed completely, as he immersed himself in service. While his legal practice continued from one end, his political career neatly took shape.[ref]
Almost parallely, Mahatma Gandhi had returned to India after his laudatory efforts in South Africa. His speeches in the Gujarat Sabha initially didn't leave much of an impression on Patel, but Gandhi's movement in Champaran changed his views about the man completely. Gandhi's full-blooded campaign to contest the injustice being meted out towards the indigo planters gathered nation-wide currency. Patel had found someone to look up to, and regular interactions at the Sabarmati Ashram consolidated an association that would last their lifetimes.
Kheda Satyagraha 1917
Patel's home district Kheda had witnessed a scourge of plague in 1899, that had devastated large sections of society and killed thousands of people. Incomes had depleted, and the district as a whole wen through a decade of turmoil. Kheda had just about come on its feet in 1917, when terrific floods ravaged the district, submerging whole crops. The villagers were in duress and urged the colonial authorities to postpone revenue collection. Their requests, however, landed on deaf ears, as the authorities demanded timely revenue payments.
Gandhi, fresh from his triumph in Champaran, was apprised of this situation and decided to test his creed of satyagraha once again. Gandhi, however, had returned from South Africa only a couple of years back and was somewhat estranged from the pulse of his soil. He realized the need for a grassroots warrior who could connect with people readily and organize a mass movement. Moreover, he needed this person to work full-time on this project. Patel was the natural answer, and this marked the beginning of an association that transformed the course of Indian history.[ref]
Patel used his organizational abilities and oratory skills masterfully to weld different communities together for this cause. He also coordinated with business barons to fund such an initiative. The government was ruthless, as it callously went on seizing land and cattle for most of 1918. The protests didn't relent, and pressure kept mounting on the authorities. Finally, in June 1918, the government agreed to a compromise- revenue payments were made optional, postponed for those not having the capacity to pay. This was a significant victory for Patel, and Gandhi realized that he now had an asset to bank upon.
The recruitment saga
Gandhi spent the rest of the year exhorting people from across the country to fight the war on the British side. He set up training camps to facilitate the same, and Patel was his aide through this process. The rationale behind mobilizing these forces was to ensure that Indians were well-armed and learnt the art of defending themselves under adversity. This move didn't generate much traction, and in fact invited hostility from different quarters, even from within the Congress. Yet, Patel remained steadfast in supporting Gandhiji through this task.
Rowlatt Satyagraha 1919 and the Non Cooperation Movement
In March 1919, the government passed the Rowlatt Act, that gave authorities the right to detail any alleged offender for two years without trial. This Act roused the populace against the colonial regime, and Gandhi was once again called upon to steer the ship. However, his travels across the country had hampered his health, and he was suffering from dysentery. Thus, once again, the mandate of organizing this movement fell on Patel's shoulder. The Jallianwala Bagh massacre further stirred common people to join the movement and demand freedom. Mahatma Gandhi's stature grew after the success of the Rowlatt Satyagraha, and he gradually became omnipotent in the Congress. Gandhi's near-dictatorial control over the party was largely a consequence of his right-hand man Patel's efforts on the ground, especially while he was unwell.
In February 1922, when angry satyagrahis burnt down a police station in Chauri Chaura (now in Uttar Pradesh), Gandhi instantly called off the movement. Once again, the rank and file of the Congress and many other groups that had enthusiastically participated under the banner of 'Swaraj' were left disenchanted. In fact, Gandhi's failure to provide 'Swaraj in One year' had escalated disillusionment in Gandhian ideals.
The Gandhi-Patel relationship was an extraordinarily layered one. Patel remained ever loyal to Gandhi almost throughout, staying by his side even when all his otherwise ardent followers deserted him. He never really challenged Gandhi's decisions and publicly always appeared as his right-hand man. This did not necessarily mean that he agreed with him on every issue: he was vocal in his objection to Gandhi's belief in the disbandment of armed forces in an independent country. Both only shared a difference of 6 years, and so could relate with each other.
Nagpur Satyagraha, 1923
This was a movement sparked off by the arrests of the illustrious Subhadra Kumari Chauhan during a protest in Jabalpur when people jointly opposed the British regulation against hoisting the Indian flag. The Nagpur District Congress took cognizance of the situation, and launched a Satyagraha to oppose the high-handedness of the British. Patel was called upon, and as usual, he used his organizational abilities and guided the protesters using all his experience. A litany of arrests followed, and many satyagrahis were beaten to death, but Patel continued his negotiations with the District Commissioner, and they reached a settlement in September 1923. This movement gave greater popularity to the tricolour flag, and also raised Patel's stature at a national level. With Mahatma Gandhi in jail, this movement ignited a lot of hope as Patel re-assured the populace about the efficacy of non-cooperation.
By this time, the Congress had undergone another split, with C.R. Das and Motilal Nehru forming the Swaraj Party and contesting elections for legislative councils. They wished to continue the non-cooperation movement from within legislative bodies, and to an extent, achieved their ambition. However, soon after Das's death in 1925, the party under Motilal Nehru merged with the Congress. In 1927, Patel played a massive role in the relief measures after a flood devastated large parts of Ahmedabad.
Legacy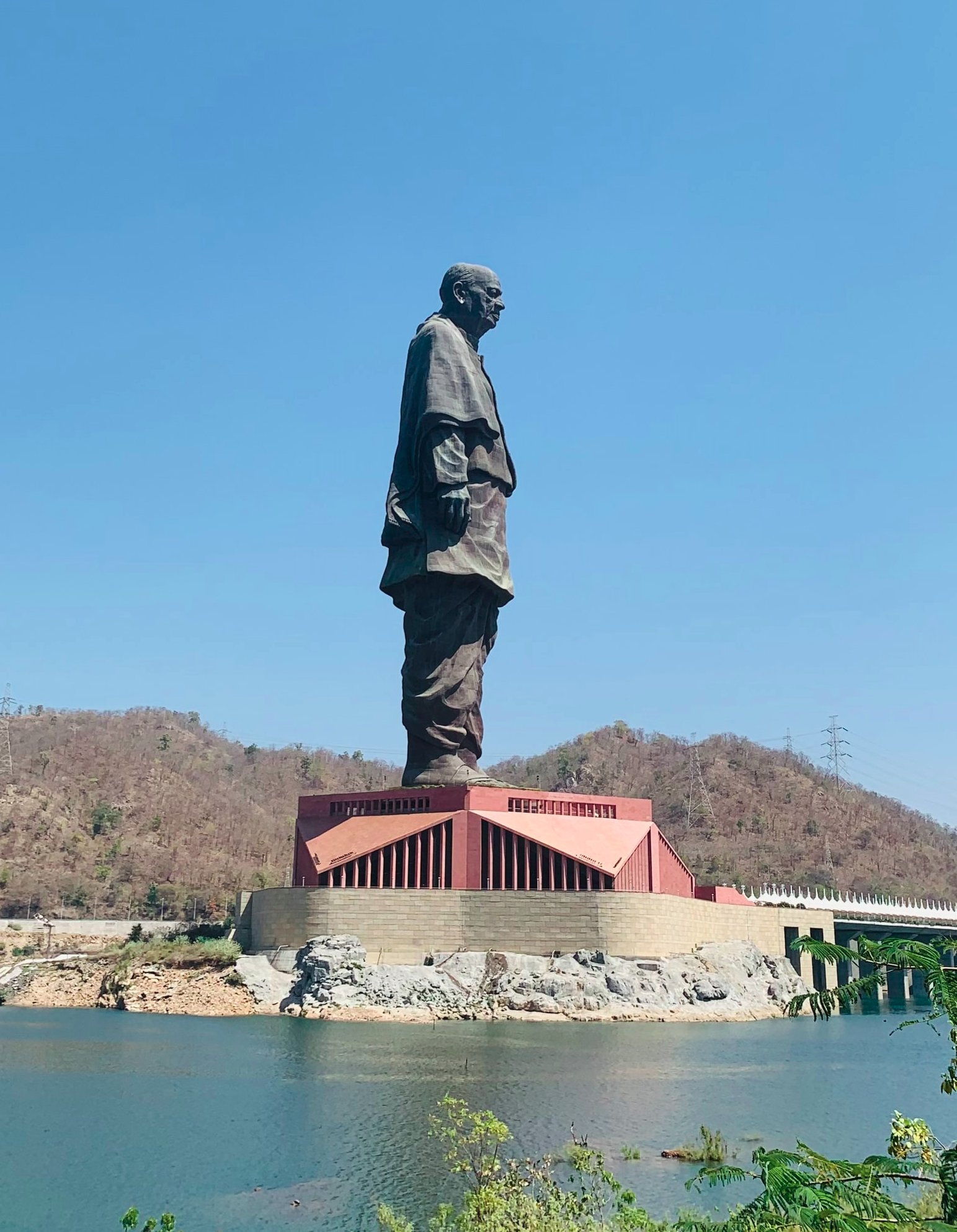 October 31st, 2018, marked the inauguration of the world's tallest statue – the Statue of Unity, against the backdrop of the dramatic Satpura and Vindhyachal hills in Kevadia, Gujarat. The 182-metre (600 feet aprox.) statue is dedicated to Sardar Vallabhbhai Patel, the architect of independent India.
The statue has been built as a tribute to the Iron Man of India, Sardar Vallabhbhai Patel, the first home minister of independent India. He was responsible for uniting all 562 princely states of the country to build the Republic of India.
The colossal monument towers over the River Narmada, a tribute to India 'from the people of Gujarat' to the leader who placed people's welfare first. The Statue of Unity overlooks the vast surrounds and the river basin of the Narmada River and the sprawling Sardar Sarovar dam. It stands on the Sadhu Bet hillock, connected by a 300-metre bridge, which offers access from the mainland to the statue.[ref]
As a part of an outreach programme for the project, the state government had asked Indian farmers to donate their used farming equipment to collect iron needed for the statue of Sardar Patel. Eventually, about 5000 tonnes of iron is believed to be collected. Details of the construction and history of the leader can be seen in an in-house museum, inside the statue.