Maharana Sangram Singh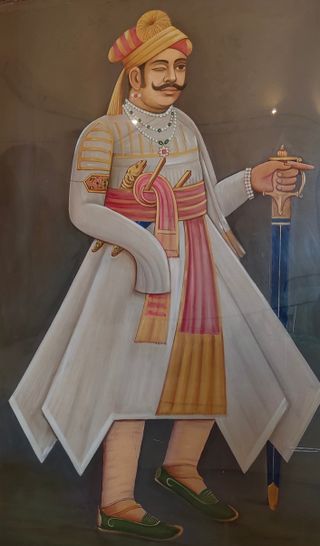 Portrait of Maharana Sanga, Fateh Prakash Palace Museum, Chittorgarh
| | |
| --- | --- |
| Predecessor | Maharana Raimal Singh |
| Capital | Chittorgarh |
| Daughter-in-Law | Mirabai |
| Dynasty | Sisodia Rajputs of Mewar |
| Successor | Maharana Ratan Singh II |
| Date of death | 30th January 1528 |
| Mother | Maharani Ratan Kunwar |
| Kingdom | Mewar |
| Spouse | Maharani Karnavati |
| Children | Bhojraj, Maharana Vikramaditya, Maharana Ratan Singh II, Maharana Udai Singh II |
| Father | Maharana Raimal Singh |
| Date of birth | 12th April 1482 |
Birth
Maharana Sangram Singh popularly known as Maharana Sanga, was born on 12th April 1482. He was born to Rana Raimal and Ratan Kunwar. He was the eldest of the three brothers - the other two being Prithviraj and Jaimal.
Coronation
In the early half of the sixteenth century, Maharana Raimal ruled over Mewar. He had three sons, Sanga, Prithviraj, and Jaimal, who always fought with one another. King Raimal always thought that the disunity between his sons can be ill-fated for the future of his kingdom. Rana Raimal's wife, Ratan Kunwar asked him why his sons were always confronted each other and quarreled over petty issues. Rana Raimal told her that each of them wants to be his successor. Ratan Kunwar said that the throne should be given to Sanga because he was the eldest son. To this Rana Raimal replied that it was well established that Sanga had to be the heir but his brother, Surajmal pitted them against one another.
One day the brothers were once again quarrelling over this succession dispute, when their uncle Surajmal intervened and advised them to visit a holy person, Charani Devi, and ask her to predict the rightful inheritor to their father's throne. The three brothers mounted their horses and headed over to consult Charani Devi. When they reached the temple a priest told them to sit on three things. Sanga sat on a tiger skin mat and both Prithviraj and Jaimal sat on chairs.
When Charani Devi came she pointed at Sanga and announced that he was destined to become the king. As soon as Prithiviraj heard the verdict he ran and killed Surajmal and was on the verge of killing Sangram. When Sanga saw all this he thought that he should not involve himself in a fight with his brother as bloodshed did not bode well for the sanctifying ethos of a temple. He once again mounted a horse and rode away, but an arrow struck his eye en-route. Prithviraj was the culprit, and his brother Jaimal was running behind to kill him.
When Sanga was tired and unable to ride any further, a magnaninmous trader Veeda offered help and told his wife to lead the prince to his horse. When Jaimal came and asked Veeda about Sanga, Veeda told him that he would sacrifice his life but not tell where he is. As Veeda was unarmed Jaimal killed him with a single blow of his sword. Meanwhile, Sangram thought it unwise to go to the capital city because Prithviraj was determined to occupy the throne. Sanga rode into the jungles and after few hours he saw some shepherds. The shepherds offered him a job. After few days he was fired at, and while grazing some sheep he saw two armed dacoits. When they both came towards him, they asked him that who he was and at the same time Sanga was thinking that he should join their group for some time so he gets some arms. Then Sanga was introduced to the chief of their gang, Karam Chand. Karam Chand introduced Sanga to his daughter. After some time Karam Chand's daughter and Sanga fell in love.
One day, Sanga and Karam Chand's daughter were discussing about their plans to marry and flee from the base of the Dacoits. Maru, one of the dacoits, overheard their conversation and told their plan to Karam Chand. Then Karam Chand called Sanga in his cabin the next day and Sanga told Karam Chand that he wanted to marry his daughter. A few days after the wedding of Karam Chand's daughter and Sanga, Karam Chand said to Sanga that he should become the chief of the group but Sanga refused and told Karam Chand about himself. A few days later he went to Chittorgarh, and met his father. Some months later Maharana Raimal died and Sanga became Maharana Sanga, the King of Mewar. [ref]
Battle of Khanwa
Years passed by and Mewar reached its summit of prosperity under the reign of Maharana Sanga. Meanwhile, Babur a king from modern-day Uzbekistan was making plans to become the master of Delhi. In April 1526, Babur attacked the sultan of Delhi, Ibrahim Lodi who was defeated and killed by Babur himself. He soon started his preparations to attack the capital of Mewar, Chittorgarh. When the news reached Maharana Sanga, he stitched an alliance with Mahmud Lodi. Soon after the alliance was forged Maharana Sanga attacked the fort of Bayana which was in the control of Babur during that time.
In March 1527 Babur attacked Khanwa. He lost the first day of the battle even though many troops were sent to capture the fort. On the second day of the battle, Babur gave a motivational speech to his fellow soldiers and vowed that he would not drink wine. He also sent a letter for peace but Maharana Sanga said that he will only accept the peace offer when it will be on their terms. Babur refused such terms and started conspiring against Maharana Sangram Singh. He influenced Shiladitya, the diplomat responsible for conveying Sanga's terms to Babur. Shiladitya was also the person who was appointed to lead the main force of Maharana Sanga because the Maharana was going to lead the rear attack force. When they came to attack the forces of Babur, Shiladitya merged his forces with Babur and started marching towards Chittorgarh.
Death
After Maharana Sanga saw this he felt betrayed and retreated to the forests. As soon as entered the forests he swore not to enter the fort of Chittorgarh until he vanquishes the Mughals. When he was in the forest he became seriously ill, he had become bedridden and died a few months later on 30th January 1528 in a village called Vaswa in the forests. [ref]