Madhukar Dattatraya Deoras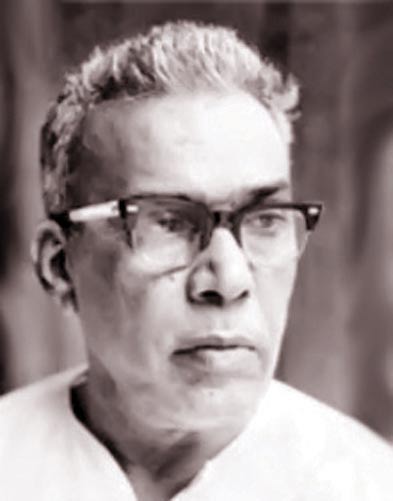 | | |
| --- | --- |
| Birth place | Nagpur, Central Provinces, British India |
| Date of death | 17 June 1996 |
| Mother | Parvati Bai Deoras |
| Father | Dattatreya Krishnarao Deoras |
| Date of birth | 11 December 1915 |
Madhukar Dattatraya Deoras, popularly known as (Pujaniya) Balasaheb Deoras served as third Sarsanghchalak of Rashtriya Swayamsevak Sangh (RSS) from 6th June 1973.[ref] Balasaheb continued as Sarsanghachalak till 11 March 1994 when he stepped down due to ill health - leaving behind a shining legacy and paving the way for Prof. Rajendra Singh to replace him. Declining health eventually resulted in his death on 17 June 1996. He was one of the earliest swayamsevaks of Rashtriya Swayamsevak Sangh who participated in Mohite Wada shakha started by Dr. Keshav Baliram Hedgewar in 1925.He was appointed as saha-sarkaryawah in 1946 (and Sarkaryawaha in 1965) and became the Sarasanghchalak after the death of M.S. Golwalkar. RSSunder the leadership of Deoras went through various difficult situations like the ban on the RSS, the Emergency, Ramjanmabhoomi movement and many more. During the emergency, he was sent to Yerwada Jail due to his support for the JP movement, an anti-Indira Gandhi movement led by Jayprakash Narayan. He played an important role in guiding the Swayamsevaks in a successful anti-emergency struggle and reunited the Sangh after the dark phase of emergency and the ban.
Gifted with a profoundly critical intellect, Balasaheb gave a much-needed fillip to the process of a direct dialogue with workers at different levels. He himself would sit for long hours seeking answers to a number of doubts arising in the minds of Swayamsevaks. This two-way intellectual feedback proved very useful in firming up the conviction of the rank and file of the Sangh Parivar. Such an organisational direction was particularly needed in view of the fast-changing intellectual agenda at the national level, with the phenomenal rise of Hindu awareness and Hindutva coming up to centre stage.[ref]
Despite being maligned by the government and the left leaning main stream Indian media, RSS under Deoras grew fast. It had about 30,000 shakhas, each attended every day by 40-50 volunteers at that time. It also had a sizable presence in slums, Harijan bastis and communities in about 25,000 of the 67,000 tribal villages. Besides, Deoras involved his volunteers in the field of education under the aegis of Vidya Bharati, and also floated Seva Bharati, a missionary outfit to serve the downtrodden and tribals and to counter the covert evangelical activities of the Christian missionaries.[ref]
Early Life And Education
Balasaheb Deoras was born on the 11th of December 1915 in Nagpur. His father, Dattatreya (a.k.a. Bhaiyyaji) Deoras was a government officer in revenue department and owned a small piece of agricultural land in the district of Balaghat (then part of the Central Provinces, now Madhya Pradesh), adjoining Maharashtra. The large family of eleven (which included nine children) managed within their modest means, and laid a heavy premium on education. Mother, Parvatibai was a housewife.
Balasaheb was the couple's eighth child. The first three children - Diwakar, Bhaskar and Dinkar - followed the traditional career paths like every other youngsters at that time. They pursued Medicine, Police service, and Law respectively. It was expected of Balasaheb to follow one of the similar paths and join the civil services, but he had in a way made his intentions clear by joining the RSS in early age. Moreover, he had also initiated his younger brother, Murlidhar (aka Bhaurao) Deoras, to follow him and there came a time when the two were referred to as the 'Deoras brothers' of the RSS.[ref]
Deoras family belonged to Chennur, Andhra Paradesh with 'Deoraju' surname. One of it's branch migrated to Nagpur about two centuries back. He along with his younger brother used to attend shakhas during childhood.[ref]
Balasaheb's primary and highschool education completed in Nagpur. In July 1931, Balasaheb finished his matriculation from New English High School, Nagpur and entered Morris College, Nagpur. In 1935, he finished his graduation in B.A. with Sanskrit and Philosophy as major subjects. Later he obtained his LLB degree in 1937, from the College of Law, Nagpur University.[ref]
Childhood Affiliation With RSS
Dr. Keshav Baliram Hedgewar founded the RSS in 1925 with the aim of bringing back the lost glory of the nation. Deoras was introduced to Rashtriya Swayamsevak Sangh at the age of 11 as a member of Kush Pathak (Squad dedicated to physical and mental development of teenagers) of Mohite Wada Shakha in Nagpur. He served as a shakha karyakarta for many years during childhood. Balasaheb devoted most of his time after classes for RSS work. He used to motivate his batchates and school students to join RSS and work for the country. With the passing of time, Balasaheb's daitwa (responsibility) kept on increasing from Ganashikshak to Mukhyashikshak and shakha Karyawaha.[ref]
As number of shakhas expanded, he was asked to look after Itwari shakha in 1932 along with Martand Mulmule and Bhaiyyaji Khandwekar. Itwari shakha was considered as one of the weakest shakhas in Nagpur at that time. All of it's daily programs used to be orgainsed in open space in fornt of a broken house. It was necessary to clean the place (Sanghsthan) daily due to uncleanliness. Balasaheb used to participate in these cleaning activities daily with shakha swayamsevaks. He paid great attention on every swayamsevak for their personality development.[ref] Itwari shakha became one of the prominant shakha within few months. Within six months, he was appointed as a Mukhyashikshak of shakha.[ref]
There used to be a healthy competition amongst the various shakhas in Nagpur at that time, particularly during the annual parade when every shakha would strive for the first position. The Dhantoli-Dharampeth Shakha used to be in focus due it's discipline, and therefore had well-dressed swayamsevaks in crisply-starched shorts and shirts, wearing a clean pair of shoes and socks. On the other hand, the Itwari shakha which was recognised as first amongst equals, particularly when it came to adhering to ideology, was ordinary in comparison and had lost the competition a year before Balasaheb had taken over as karyavah. Once he came on board, he set a target for the swayamsevaks, after taking the setback rather seriously, and had said, 'without making any changes in our clothes or footwear (meaning buying fresh pairs), we have to win the contest this time. This obviously required rigour on the part of young swayamsevaks, but such was Balasaheb's hold over them that they would stay back every evening to practise marching in perfect coordination. In 1937, Balasaheb Deoras' efforts bore fruit and the Itwari Shakha stood first in the annual marching competition.[ref]
Balasaheb Deoras was appointed as a Mukhyashikshak in Pune Sangh Shiksha Varga (training camp), 1937 at the mere age of 22.
Life As A Pracharak
Inspired by Dr. Hedgewar, Deoras was associated with the RSS from its inception and decided to dedicate his life to its goals. After completing LLB degree at the College of Law, Nagpur University, Balasaheb Deoras was appointed as a Nagpur city Karyavaha. He also worked as a volunteer in orphanage during his study.
Sindi Meeting
Famous Sindi Meeting was organised by RSS in 1938 in Sindi, Wardha (Maharashtra) where many revolutionary reforms were accepted in RSS structure. First three Sarsanghchalaks including Deoras were present in meeting. Deoras played key role in meeting.
Nagpur Karyawaha
In 1937, at the young age of Twenty, Deoras was appointed the Nagpur Karyavah or city secretary of the RSS. Later he was appointed as a Pracharak in Bengal in 1939 to widen the footprint of RSS beyond central India but was called back soon due to deteriorating health of Dr. Hedgewar. After tragic death of Dr. Hedgewar in 1940, he was again appointed as Nagpur Karyawaha on 21st June 1940 which he served till 1946. Balasaheb displayed examplary organisational skills during his tenure. He is known to have started 15 shakhas simultaniously. He ensured a steady flow of full time pracharaks from Nagpur which helped Dr. Hedgewar focus on organisation expansion.
During his tenure as a Nagpur Karyawaha, Deoras ji kept equal attention on development of each and every swayamsevak. He used to work personally in organising shakha festivals, camps etc. After solidification of Itwari shakha, 15 swayamsevaks were given resposibility to open 15 different shakhas in Itwari area. As a result, shakhas started in every section of society. As a result swayamsevaks started putting Hindu identity first rather than their respective casts, languages etc.[ref]
Balasaheb had a knack for finding qualities in everyone. He encouraged various swayamsevaks to work not only in RSS shakhas but also in various social fields such as news papers, schools, banks, social & political organisations etc. Many swayamsevaks were freed from shakha responsibility to work in various fields according to their ability.[ref]
Natural Affinity With Swayamsevaks
Balasaheb ji used to take care and have personal affection with all swayamsevaks.
Mahatma Gandhi's Assassination
With the tragic murder of Mahatma Gandhi, Jawaharlal Nehru government started vendetta crackdown on RSS. Government banned RSS and Deoras was imprisoned in February 1948, initially six months in Nagpur Central Jail, later shifted to Delhi for 4 months before release.
By the time Deoras was released from Jail, the Indian government had already initiated talks and told RSS to accept certain conditions for lifting the ban. But the meetings were making little progress and Since the then Sarsanghchalak - Sri Golwalkar Guruji was in jail, Deoras and Bhaiyyaji Dani as senior leaders of the RSS took charge of the negotiations.[ref]
On September 24 1948, Golwalkar Guruji wrote to Sardar Patel demanding that the allegations and the ban on organisation be withdrawn because countrywide searches and investigation had yielded no proof against the RSS. Patel asserted that since all provinces unanimously wanted the ban to continue, "there must surely be some basis for it." He advised the RSS to function according to "the rules of the Congress." That there "must be some basis for it" perhaps admitted the lack of any basis.
On the other front, Mauli Chandra Sharma, a former Congress leader who later became president of the Jana Sangh, was enlisted with the task of negotiating with the Deoras-Dani duo. He was later joined by the then chief minister of Central India, D.P. Mishra, and they suggested to Deoras that Golwalkar Guruji should write a letter to the government promising that the RSS would keep out of active politics, if he wanted the ban revoked. But Deoras had refused point-blank, knowing full well that a written communication could later be misused by the government.[ref]
After much talks from many fronts, government was very reluctant to lift the ban on RSS even if there was no evidence against the organisation. It was then that T.R. Venkatrama Shastri, former Advocate General of Madras and head of the Servants of India Society, intervened. He wrote an anguished letter in The Hindu, met Sardar Patel and urged him to lift the ban. In the fresh negotiations came the new argument that since it did not have a written constitution, the RSS functioned secretly. Shastri drafted and submitted the RSS constitution. But the talks failed again.[ref]
On November 13, the Home Secretary refused to lift the ban and asked Golwalkar to go back to Nagpur. Golwalkar exploded and replied and challenged Indian government to either prove or drop the charges. Refusing to leave Delhi, he asked the RSS workers to restart the suspended Shakas. The RSS began a satyagraha on December 9 and in one month, some 80,000 RSS workers were arrested. Yet government of India could not provide any proof of wrongdoing by the RSS.[ref]
Finally after much pressure from all sides, the ban was lifted unconditionally on 11 July 1949. In a written statement to the Bombay Legislative Assembly on September 14, 1949 (Proceedings p2126) the Home Minister Morarji Desai admitted that the ban on RSS was no longer considered necessary; it was lifted unconditionally; and the RSS gave no undertaking.[ref][ref]
The Justice Kapoor Commission, appointed by Government of India noted that the "RSS as such were not responsible for the murder of Mahatma Gandhi, meaning thereby that one could not name the organisation as such as being responsible for that most diabolical crime, the murder of the apostle of peace. It has not been proved that they (the accused) were members of the RSS."[ref]
During Emergency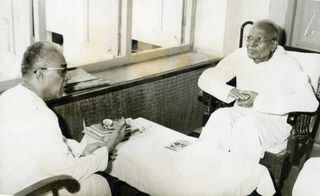 When Prime Minister Indira Gandhi declared the state of emergency in the country on June 25, 1975, Rashtriya Swayamsevak Sangh (RSS) was one of the first organisations to be banned. The government banned the RSS on July 4, 1975. The then Sarsanghchalak Balasaheb Deoras had been taken into custody on June 30, 1975 at Nagpur railway station and was kept at Yerwada jail in Pune. A number of top leaders of the RSS were arrested, along with thousands of innocent swayamsevaks. At least 87 swayamsevaks sacrificed their lives during the Emergency. Deoras, who led this movement from the front even when in jail, wrote twice to Prime Minister Indira Gandhi. In both the letters, he strongly condemned the misinformation campaign against the RSS being run at the behest of Gandhi.[ref]
All kinds of communication platforms, such as newspapers, magazines, forums, postal service and elected legislatures, were stopped during emergency. The RSS has built itself from the beginning through people-to-people contact and never relied on any kind of forum for communication. So the effect of stopping the media did not have even a minor impact on the RSS. Although all other organisations were badly affected. Its central decisions at the all-India level reach the village through the levels of the province, department, district and tehsil. This communication system ran smoothly throughout the Emergency period. The houses of swayamsevaks proved to be the greatest boon for taunting the underground movement and due to this, the intelligence officers could not find the whereabouts of underground workers. The 'Lok Sangharsh Samiti' was formed and Nanaji Deshmukh was appointed its convener. Once he got arrested, Sunder Singh Bhandari took his place. Out of a total of 1,30,000 Satyagrahis who performed Satyagraha under its banner during the Emergency, more than 100,000 were from the RSS. Of the 30,000 people held captive under MISA, more than 25,000 belonged to the RSS.[ref]
When Indira Gandhi finally announced the elections in 1977 after immense pressure from all across the world. She knew well that the RSS was the only orgainsation that could quickly reassemble and help the Janata Party to victory. Hence, she asked Shri Deoras ji not to support Janata Party in order to lift the ban on RSS. But Deoras firmly declined. Anyhow finally the ban was lifted.[ref]
Noted thinker and social leader K.N. Govindacharya said that 70 percent of those arrested during the emergency belonged to RSS while 30 percent came from socialist and other background. They were subjected to inhuman tortures and they did not know the reason for their arrest.
The RSS suffered the most during the Emergency, but yet, Deoras, who himself was in jail throughout the period, said after the victory of Janata Party that it was time to "forgive and forget" and not be vindictive against anyone.[ref]
During 1990s
Chennai Bomb Blast
The ban imposed on RSS after Ramajanmabhumi movement in 1993. Immediately after the movemet, a bomb blast took place in Chennai Karyalaya of RSS. Whole country was stunned by the evil acts by anti-social elements. Eleven swayamsevaks including the residents of Karyalaya and some visitors had lost their lives in the blast. Sri Srikanth Joshi, the then personal assistant (Sahayak) of Shri Balasahebji described the immediate response of Shri Balasahebji. He said that the moment Balasahebji came to know the news, he insisted on visiting Chennai and personally consoling the bereaved families. However, Doctors firmly rejected the idea, keeping his ailing health condition in view. However Balasahebji was displeased and started expressing his helplessness in consoling families of deceased swayamsevaks to everyone who visited him in Nagpur. This further deteriorated his health. Explaining the kind of trauma Balasahbji went through that period, Sri Srikanth Joshi had this to say "Whenever he looked into my eyes, he conveyed only one wish i.e visit Chennai." Having seen his resolve, the doctors finally had permitted him to go to Chennai on the condition that he should first go to Hyderabad from Nagpur and take 2 days of rest and then to Chennai, only if he does not have any problem. His health was so critical that he could not even travel for four hours at a stretch. As per advice, we flew from Nagpur to Hyderabad, halted for two days and then flew to Chennai. As Balasahebji could not walk, he was put on a wheel chair during the entire journey. After reaching Chennai, he immediately went to the karyalaya and offered tributes to the martyred swayamsevaks. All the family members of the martyrs were moved by this moment and some of them had moist eyes.[ref]
Works & Views
Expansion Of RSS
Deorasji realized the urgency of spreading Sangh in North-Eastern states, the citadel of fissiparous tendencies and activities where gunshots were the daily cup of tea. A lot of pracharaks were gone to Nagaland, Mizoram, Arunachal Pradesh, Manipur, Tripura, Assam, and Meghalaya. They worked in those hilly, tribal areas weathering the adverse climatic conditions and armed rebels. Several of them turned martyrs. Some went missing and has no clue even after decades. But Sangh's activities went ahead. Sangh made satisfactory headways in bringing the people into the mainstream of national life. Vanvasi Kalyanashram, VHP, ABVP, and BJP made tremendous progress in their activities and achievements. One has to note the political development that took place in Assam recently. A good number of such pracharaks are from Kerala; the RSS workers of Kerala take pride in it. Kerala's Asokan is the Manipur Pranth Pracharak of RSS; he was deployed to North-East over three decades before.[ref]
RSS & Politics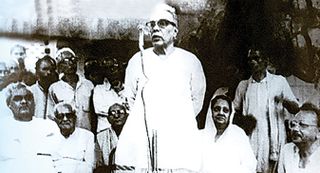 The RSS, since its inception, has thought of itself as an organisation of the entire society and not as an organisation in society. This stance of RSS has not changed even after our Independence from the shackles of British rule. In 1977, during Emergency, when the Janata Party won the elections in which swayamsevaks wholeheartedly participated. In the formation of the Janata Party, many erstwhile parties had merged. But, in spite of the lucrative offer to merge the Sangh in a political party in power, the then Sarsanghachalak Shri Balasaheb Deoras declined it, saying that in a special, critical situation in national life the Sangh did take part in the election. But now Sangh will concentrate on its destined mission of organising the entire society.
[ref]
Deorasji's concern was in uniting the people politically. But appeasement was never his means to achieve this noble cause. He was the supreme leader of the organization which suffered much oppression and human rights violations during the Emergency.
Social Equality
Deorasji included social fraternity and social reformation in his activities using the powerful organization which was even 'Gods' envy' as Guruji had rightly described. In another word, the stress Deorasji gave for the social fraternity and reformation was the practical continuation of the organizational expansion achieved by his predecessor.
A year after becoming the Sarsanghchalak in 1973, Deoras even went on to declare during the Vasanthamala Lecture Series, Poona that If untouchability is not wrong, nothing in the world is wrong. This 1974 mantra has resounded among millions of Swayamsevaks ever since with many of them embracing the Harijans, trying to help them in their struggle, especially in times of despair. Its our national duty to have the barriers of caste, region, language among the Hindus eradicated, Deoras would often say.
Deorasji ardently believed that inter-caste marriages could play a significant role to eradicate casteism. A senior swayamsevak in Kerala found out a suitable match for his daughter. He did not bother about the caste of the groom (even though it was a so-called inferior one compared to his caste). His only concern was the 'merit.' It was a purely arranged marriage; the bride and groom had no contact at all. It was very much beyond one's imagination two-and-a-half decades ago! These days lot of such weddings take place in Sangh families in Kerala. A similar incident took place in Kerala in the recent past. Groom is the son of a senior Sangh functionary. Groom found out a suitable bride who was again belonging to a so-called inferior caste. There was not even an iota of resistance or opposition from the part of the Sangh worker and his family members and relatives. Bride's caste was not even an issue for anybody; a replay of the wedding of the above BJP leader's son. Several senior leaders of Sangh and Sangh-oriented organizations and hundreds of workers and prominent citizens took part in the functions and blessed the couple. These parents proved they are the real disciples of their late leader, revered Deorasji.[ref]
Equality In Action
Social equality and harmony were not mere principles for Balasaheb, instead he strongly believed these ideas and assimilated them in his own life with the inspiration from Dr. Hedgewar. Swayamsevaks from every layer of society used to come to his house when he was a shakha Karyawaha in Nagpur during childhood. Many times, he used to take Dalit swayamsevaks to his house for meals. He told his mother not to ask about the casts of swayamsevaks, which was very difficult at that time.[ref]
Visionary Leadership
Despite being maligned by the government and the left leaning main stream Indian media, RSS under Deoras grew fast it has about 30,000 shakhas, each attended every day by 40-50 volunteers. It also has a sizable presence in slums, Harijan bastis and communities in about 25,000 of the 67,000 tribal villages. Besides, Deoras involved his volunteers in the field of education under the aegis of Vidhya Bharati, and also floated Seva Bharati, a missionary outfit to serve the downtrodden and tribals and to counter the covert evangelical activities of the Christian missionaries.
Deoras echoed Savarkar by stating:
"We do believe in the one-culture and one-nation Hindu rashtra. But our definition of Hindu is not limited to any particular kind of faith. Our definition of Hindu includes those who believe in the one-culture and one-nation theory of this country. They can all form part of the Hindu-rashtra. So by Hindu we do not mean any particular type of faith. We use the word Hindu in a broader sense."
According to Deoras, even though Mahatma Gandhi appeased Muslims, the Muslims never accepted him as one of their own.[ref]
In 1992, the then ruling party set up a minorities commission as one step ahead in their attempt to appease a certain minority community. Balasaheb lambasted this misconceived move and moulded public opinion in favour of setting up a human rights commission. Analysing the problem created by the secessionist agitations in Kashmir, Nagaland and Mizoram Balasaheb observed : Any part of India that ceased to have a Hindu majority proceeded to break away from the parent country. This one lesson we must learn from history. His argument was irrefutable.[ref]
A brainchild of Deoras, the Swadeshi Jagaran Manch was vocal in its defense of swadeshi. Founded in 1993, it was conceived as a protectionist bulwark against economic liberalization by the Congress government of P.V. Narasimha Rao in 1991.
Succession
Before Balasaheb ji, Sarasanghchalak dayitwa (resposibility) was handed over after the death of present Sarasanghchalak. Breaking tradition, an ailing Deoras announced that Prof. Rajendra Singh, his associate for years, would succeed him on 11 March 1994. This was the first time in RSS that the Sarsanghachalak announced a successor when alive, giving up the practice of a 'will' being made public posthumously like his predecessors did.[ref]
Legacy
In RSS training camp (Sangh Shiksha Varga) in 1943 at Pune, the then Sarsanghchalak, Pujaniya Shri Guruji stood up to introduce a RSS swayamsevak. Guruji said, "Many amongst you wouldn't have seen Dr. Hedgewarji. If you look at Balasaheb Deoras, you would see Dr. Hedgewar"[ref][ref]
Quotes By Balasaheb
Now the time has come for Krishna himself to go to Sudama's house. The swayamsevaks will have to go to the localities of the deprived, repressed and backward people to serve them and to raise their quality of life.
If untouchability is not a sin, nothing else is. It must go lock stock and barrle.
Books
Balasaheb wrote in both English and Hindi. Some of books he authored: [ref]
Punjab, problem and its solution (1984)
Social equality and Hindu consolidation (1974)
Hindu sangathana aura sattavadi rajaniti (1997)
Sri Balasaheb Deoras answers questions (1984)
Rouse: The power of good (1975)
Recommended Articles