Madan Lal Dhingra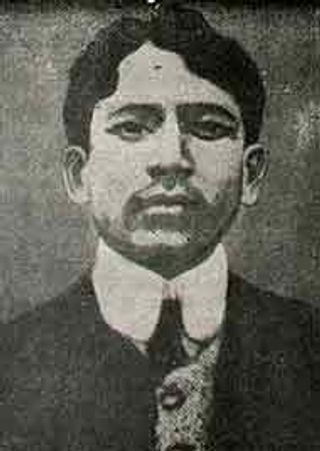 | | |
| --- | --- |
| Birth place | Amritsar |
| Death place | London |
| Date of death | 17 August 1909 |
| Date of birth | 18 September 1883 |
Introduction
The year was 1909, and it was a pleasant July evening at the Institute of Imperial Studies, South Kensington, London. A party had been organised in the Jehangir Hall by the National Indian Association (NIA) with the ostensible purpose of fueling interaction between British aristocrats and their Indian counterparts. A young, bespectacled student had also made his way into the party. The honorary treasurer of the NIA, Sir William Curzon Wyllie arrived along with his wife at 10.30 pm, at a time when guests had started to disperse. Amidst the cheerful 'goodbyes' and pleasantries, the young man mentioned earlier moved forward, stoic yet with an underlying sense of purspose. Sir Curzon Wyllie, who knew this man pretty well, had an extended conversation with him. Suddenly, as if out of nowhere, sounds of bullets raged through the hall, and the next think guests saw was Sir Curzon Wyllie's body lying in a pool of blood. The student had fired four shots at point-blank range, and his target had been slain on the spot. Almost instinctively, Dr. Cawal Lalcaca reached out to nab the youngster, and the murderer fired two more shots, injuring Dr. Lalcaca fatally. The youngster tried to kill himself, but to his utter dismay, realised that he had exhausted all his bullets. After a string of coordinated efforts, he was overpowered by a couple of men. When asked his name, the man exclaimed without any hint of hesitation, 'Madan Lal Dhingra'.
The story of this revolutionary is sure to lift spirits even in contemporary times, as it offers a fresh perspective to understand the Indian national movement for independence. The revolutionary stream of thought is often ignored in historical discourse, and there is a need to understand the consequences and motivations that stimulated revolutionaries to lay down their life for a noble cause.
Early Years
Madan Lal Dhingra was born in Amritsar, Punjab on 18 September 1883. His father was a renowned eye-surgeon, with many connections across the board. The striking (later ironical) aspect of his family was their history of unequivocal loyalty to the British. Dhingra studied in the Municipal College at Lahore for a brief period, before his father compelled him to manage their family business. This termination of his academic pursuits deeply incensed Dhingra, and he persuaded his parents to send him to England for studying further. His father was not at all impressed by his son, but after his initial reticence felt that a shift in climate would bode well for the energetic youngster. Dhingra was one out of six siblings, and his childhood was a rather uneasy one. While financially, his family had no concerns, Dhingra's rebellious nature never really made him popular in his village. Some accounts suggest that he ran away from home the day after his marriage, and some scholars have suggested that his shifting abroad was tied to some psychological issues he had been confronting back home. Moving abroad may have indeed been a fresh lease of life, and the world was to witness its repercussions in the years that came by![ref]
Dhingra's Years In England
So off left Madal Lal Dhingra in May 1906 for London to pursue mechanical engineering from University College, London. It is critical to get an overview of the political climate of India is essential in order to contextualise Dhingra's contributions in the years to come. The Swadeshi Movement was at its peak in Bengal, passions being inflamed further after the unpopular partition of Bengal in 1905. Western India had been ravaged by plague, and the excesses of the authorities had sparked a wave of revolutionary spirit, particularly after the execution of the Chapekar brothers. One such young revolutionary figure , who went on to become the most crucial figure in defining Dhingra's career, was Vinayak Damodar Savarkar. Savarkar had founded India's first secret society (Mitra Mela) as a teenager, and went on to lead another revolutionary group called Abhinav Bharat. Savarkar read and wrote prolifically, and his oratorical flourish left audiences dazzled. As a student of Fergusson College, he led a group of youngsters in burning foreign cloth, and was rusticated from college for his sedition. This stimulated him to carry out his revolutionary activities abroad, and in 1905 he went to London, having liaised with Shyamji Krishnavarma from India House.
India House
The India House, started by Shyamji Krishna Varma, offered lodgings for Indian students at very cheap rates. But, this was no mere residential lodging, as the students settled in this institution had devoted themselves to the cause of liberating their motherland. Far away from India, they observed the sense of freedom with which people lived in London, and yearned for such liberty back home. India House was where Savarkar wrote his widely read treatises on Mazzini and the First War of Independence. One such student who got himself affiliated with the India House was Madan Lal Dhingra. He was of a shy and reserved nature, and rarely ever spoke in meetings. Yet, he regularly attended sessions and one can imagine him being awe-struck by Savarkar's magnetic personality.
Savarkar As A Mentor
Vinayak Savarkar did play a critical role in moulding Dhingra, the revolutionary. In 1907, Shyamji Krishnavarma left for Paris, and Savarkar became the de-facto leader of India house. It must be noted that Dhingra had no prior experience of operating pistols, and had remained completely sequestered from politics during his younger days in Amritsar. Savarkar knew that he had a lot of hidden talent and mentored him in a very distinct way. While he himself never held a weapon, he was undoubtedly the intellectual fountainhead of the revolutionary movements in the onset of the fresh century. He reserved space in the revolver training centre at Tottenham Court Road, London, where his proteges would go and practice firing bullets.
By 1909, Dhingra had become a proficient shooter, and Savarkar's influence had rubbed off on him. He now was looking for an opportunity to immortalise his skills. According to some accounts, he wanted to assassinate Lord Curzon (Viceroy) and Lord Morley (Secretary of State) and only marginally missed accomplishing his goal. He fulfilled his goal late at night on the 1st of July 1909.
Assassination Of Curzon Wyllie
Sir William Curzon Wyllie had had a checkered career as an administrator and politician. At the time of his assassination, he was Political Aide de Camp to the Secretary of State for India, Lord Morley. He was charged with the responsibility of tracking prominent Indian visitors to Britain, in order to track any bit of sedition. In this capacity, he also forged personal ties with many Indian students, luring them into conversations and extracting vital information from them. This trick though didn't remain unnoticed for long, and the decisive turnaround came in April 1909, when Curzon Wyllie wrote to the Benchers of Gray's Inn, dissuading them from enrolling Vinayak Savarkar and Harnam Singh to the Bar. Dhingra had been meticulously preparing for carrying out this operation, having purchased his Colt rifle in January that year. The evening before he assassinated Curzon Wyllie, he had met Savarkar at the Notting Hill Gate Station, where Savarkar told him sternly, 'Don't show me your face if you fail this time!'
The murder was carried out with precision, although in the course of self-defence, Dhingra accidentally killed Dr. Lalcaca. Incidentally, while he had caused absolute hara-kiri in the Jehangir Hall, Dhingra himself remained unbelievably calm. The magnanimity of his action did not excite him even a little, and in a revealing excerpt, newspapers reported the next day that his first statement after being overpowered was, 'Wait, let me put my spectacles on'. Dhingra had wanted to commit suicide, but had run out of bullets, and so was forced to be subjected to a trial. He and his companions at India House were aware of the fate that awaited him.
The incident caused a string of reactions, with the top leaders in India condemning the violent act in no uncertain terms. In fact, Dhingra's family back home disowned him publicly and the only individual who was visibly supporting him before his execution was Vinayak Savarkar. Dhingra accepted all the charged levelled against him, and refused to defend his case. He had intentionally killed Curzon Wyllie, and was ready to sacrifice his life for his motherland.
Madan Lal Dhingra's Statement Before The Court
Here is his statement reproduced in entirety:
"I do not want to say anything in defence of myself, but simply to prove the justice of my deed. As for myself, no English law court has got any authority to arrest and detain me in prison, or pass sentence of death on me. That is the reason I did not have any counsel to defend me."

"And I maintain that if it is patriotic in an Englishman to fight against the Germans if they were to occupy this country, it is much more justifiable and patriotic in my case to fight against the English.I hold the English people responsible for the murder of 80 millions of Indian people in the last fifty years, and they are also responsible for taking away ₤100,000,000 every year from India to this country. I also hold them responsible for the hanging and deportation of my patriotic countrymen, who did just the same as the English people here are advising their countrymen to do. And the Englishman who goes out to India and gets, say, ₤100 a month, that simply means that he passes a sentence of death on a thousand of my poor countrymen, because these thousand people could easily live on this ₤100, which the Englishman spends mostly on his frivolities and pleasures. Just as the Germans have no right to occupy this country, so the English people have no right to occupy India, and it is perfectly justifiable on our part to kill the Englishman who is polluting our sacred land. I am surprised at the terrible hypocrisy, the farce, and the mockery of the English people. They pose as the champions of oppressed humanity—the peoples of the Congo and the people of Russia—when there is terrible oppression and horrible atrocities committed in India; for example, the killing of two millions of people every year and the outraging of our women. In case this country is occupied by Germans, and the Englishman, not bearing to see the Germans walking with the insolence of conquerors in the streets of London, goes and kills one or two Germans, and that Englishman is held as a patriot by the people of this country, then certainly I am prepared to work for the emancipation of my Motherland. Whatever else I have to say is in the paper before the Court I make this statement, not because I wish to plead for mercy or anything of that kind. I wish that English people should sentence me to death, for in that case the vengeance of my countrymen will be all the more keen. I put forward this statement to show the justice of my cause to the outside world, and especially to our sympathisers in America and Germany."

"I have told you over and over again that I do not acknowledge the authority of the Court, You can do whatever you like. I do not mind at all. You can pass sentence of death on me. I do not care. You white people are all-powerful now, but, remember, it shall have our turn in the time to come, when we can do what we like."
Savarkar had promised Dhingra that he would publish his official statement in the press. Savarkar approached his friend David Garnett who used his influence to publish the article (titled 'Challenge) in the morning edition of 16 August 1909.[ref]
Madan Lal Dhingra was executed on 17 August 1909.
Legacy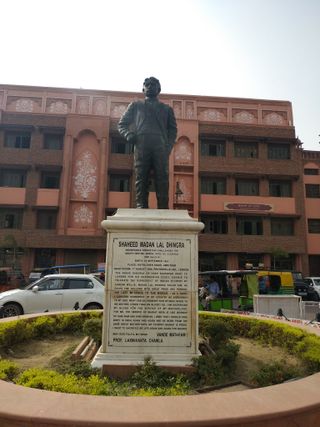 His martyrdom though didn't wipe of his memory, as prominent American, European and Irish newspapers had editorials on this fiery patriot. While political assassinations had taken place earlier too, this was the first time such an incident had taken place in the colonial home turf, and Dhingra's act became a matter of political contestation in the days following his execution. However, despite having many detractors, his courage was admired by many across the board. In fact, it is said that Winston Churchill once told Lloyd George- 'Dhingra's last words are the finest ever made in the name of patriotism'.