Jag Niwas Palace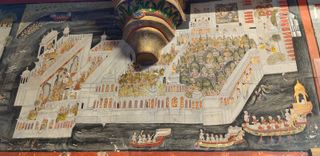 A palace wall fresco painting depicting the Jag Niwas Palace, Udaipur City Palace Museum
| | |
| --- | --- |
| Location of place | Pichola Lake, Udaipur |
| Other names | Taj Lake Palace |
| Type of place | Royal Heritage Palace, Heritage Hotel |
| Builder | Maharana Jagat Singh II |
| Nearest City | Udaipur City |
| Nearest Railway Station | Udaipur City Railway Station |
| Construction Completed | 1st February 1746 CE |
| Components | Khush Mahal, Bada Mahal, Phool Mahal, Dhola Mahal |
| Nearest Airport | Maharana Pratap Airport, Udaipur |
| State | Rajasthan |
| District | Udaipur |
| Foundation Stone | 4th May 1743 CE |
Situated on an island in Lake Pichola at Udaipur, the Jag Niwas or the Taj Lake Palace is a 18th century royal residence commissioned by Maharana Jagat Singh II of Mewar. Built in white marble and as per Hindu Vastu Shastra, the island palace now serves as an ultra luxurious Heritage Hotel.
Jagniwas is built of white marble is a Island Palace in Lake Pichola. Maharana Jagat Singh II started the construction on 4th May 1743 CE and the palace was completed in on 1st February 1746 CE. [ref]
Components
Maharana Jagat Singh II constructed Khush Mahal, Bada Mahal, Phool Mahal and Dhola Mahal in Jagniwas. According to the indigenous architecture, the palace was divided into Zenana and Mardana sections. The palace was constructed facing east, as per the Hindu Vastu Shashtra, allowing its inhabitants to pray to Surya, the Hindu sun god, at the crack of dawn. The successive rulers used this palace as their summer residence, holding their regal durbars in its courtyards lined with columns, pillared terraces, fountains, and gardens. The walls are made of black and white marbles; adorned by semi-precious stones and ornamented niches. [ref]

Maharana Jagat Singh II also constructed Pitam Niwas and Ras Niwas in The Palace, Udaipur. He also built the Rana Mahal and Ghat at Varanasi.
Heritage Hotel
Recommended Articles